We left Kauehi on a whim when we realized the wind was good, and it was forecast to go away within 48 hours. We made a quick dash across the lagoon to buy some more pearls for friends, then blasted back across, right out the pass and around the north end of Fakarava. We made our best 24 hour mileage - 186nm starting from the middle of the lagoon! The wind then died and we had to motor the last 10 hours in no wind and some leftover swell. We arrived on the north end of the island of Tahiti and and anchored behind Point Venus. The point got it's name because Captain Cook had set up camp there to observe the transit of the planet Venus. It was a nice anchorage, protected from the swell, and has one of the few incredible black sand beaches on the island. Most people have a mental picture of Tahiti with palm trees and white sandy beaches... totally wrong. Tahiti has steep sides and there are only a couple of beaches on the whole island. We were able to walk up the road a mile or so to a well stocked grocery store and buy anything we wanted... a first since leaving Mexico three months ago! We lingered two days, savoring the last bit of peace and quiet before heading into Papeete. Of course, on the day we'd decided to leave the wind came back up and was right on the nose at 20kn. We switched headsails from our big genoa to our yankee, which we'd only used once while crossing the Sea of Cortez. I was anxious to see how Imagine sailed upwind, as we'd done so little of it thus far, but have 5000 miles of it to get home. We started out with the yankee and reefed main, then put up the staysail and were pleased to be able to make 7kn to windward, not heel uncomfortably, and our tacking angles were 100-110 degrees... pretty impressive for a heavily laden cruising boat! It was one of the more enjoyable sails I've had.
Papeete harbor is a busy commercial port. You have to radio for permission to enter as the pass through the reef is quite narrow . We were informed we had to wait for a yacht to exit and a ferry to enter. What looked like a small freighter came out, which we eventually figured out must have been the "yacht." Then a high speed catamaran ferry, the size of the car ferries that service the San Juans, traveling at about 30kn, came in, then another out. Then we saw another was approaching from Moorea so we waited out that one as well... then just sailed right in... yikes! We were planning to anchor SE of Papeete (where it's free) rather than in the city where it's noisy and dirty and we'd heard some reports of theft. To get there you have to travel inside the barrier reef past both ends of the airport runway. If your mast is taller than 6 meters (our is 10m), you also have to radio and request permission to cross the end of the runway. It was quite interesting sailing along, looking down the length of a runway like we were making a final approach ! The elevation of the tarmac could not have been more than 5ft above sea level.
We anchored near about 100 other transient boats and set about figuring out where things were. Fortunately Tom and Maggie (Aurora B) gave us the rundown - where the dingy dock is, where to catch the bus, where to dispose of garbage, etc. It was just a short walk to a huge supermarket that had absolutely everything - the cheese isle alone was at least 80ft long!
We caught "Le Truck" into Papeete to check in with the officials and look around. Le Truck is the name for the local commuter busses, but they're not busses - they look a bit like a San Francisco trolley car mounted on the back of a flatbed diesel truck. The check in process was quick and simple - all the offices (Customs, Immigration and the Port Captain) were in the same building and no trips to the bank were required! (a first in our cruising experience). We checked out the market, which was mostly filled with shiny things for tourists, walked to one of the marine stores to look for a replacement bit for our dinghy floor , then decided we'd had enough of the city.
We spent the next couple days trying to finish our "chores" before Kellie's friend, Carrie, arrived. Laundry seemed to spread out over several days. We hauled provisions from the grocery store, and tried (unsuccessfully... twice!) to get to a Polynesian museum. Carrie arrived and we started having fun. We even finally made it to the museum. We were all anxious to get away from the city and spend some time sitting on a nice beach though, so we took off for Moorea. We had a fabulous time there, and concluded that it's way up there on top of our list of cruising destinations.
Carrie brought us a replacement digital camera and an underwater housing for it. There are a few underwater pictures on this page, but I've started a new Photo Gallery to display them. See the button at the top of this page.
On her last day here we took off in the dinghy heading for the NW corner of Moorea. On the way, we saw dolphins and turtles, then someone said "look at those big fish", which turned out to be a school of black tipped reef sharks. I jumped in the water, anxious to try to get some good pictures and drifted along with the current past them. I circled back in the shallows and came across a bunch of stingrays that were expecting to be hand fed. We played with the rays for a long time - they 'shlurp' right up your tummy poking their nose out of the water hoping for a handout.

Motoring to Moorea

A beautiful view from anchor in Moorea

Kellie petting a stingray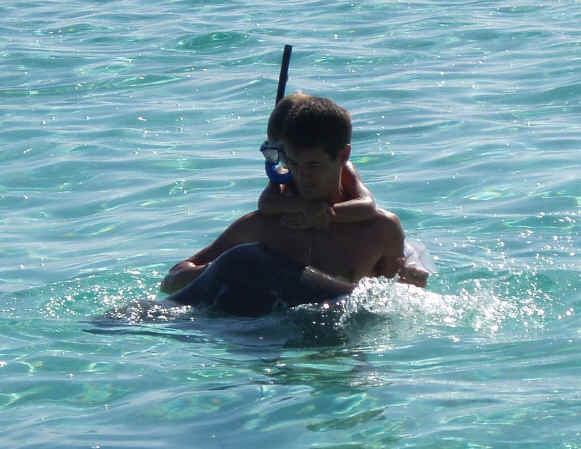 Pete trying to feed Carter to the stingray

Yeah, that's a shark beside Taryn (from Wyndeavor)

A couple of conchs... they were alive so we just took their pictures and let them go.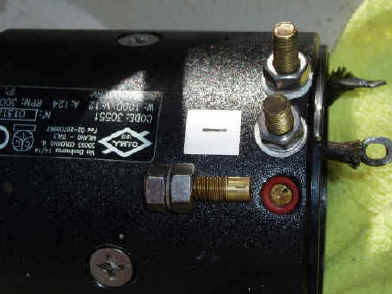 Our first equipment failure. A broken terminal on the windlass motor... and with 150 ft of chain out (arrg!) I fabricated a new terminal post out of a bronze bolt... works fine again.

Our biggest shell yet -
Ellie found two of them in 15ft of water (empty, except for the small octopus that was hiding in one).

Happy 13th anniversary, Polynesian style.

Oops. In too much of a hurry getting into the dingy. Thankfully not broken, but rather badly sprained.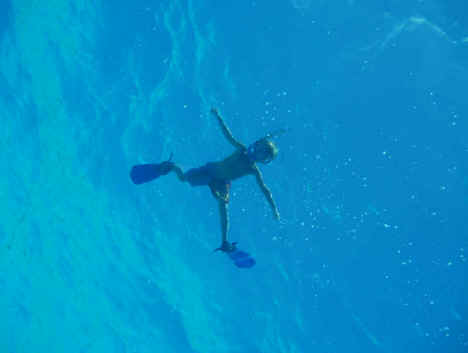 Carter has really turned into a great snorkeler. We can't keep him out of the water, and he's so interested in all the fish and critters. He's even learned to dive underwater.

Carrie... look behind you!