Christmas and the New Year in La Paz

Decorating cookies on Wyndeavor gave the kids an afternoon of fun while Kellie fixed a traditional dinner in peace.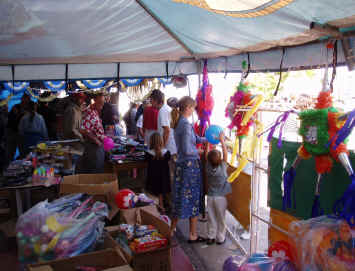 On the morning of the 25th, after opening our presents, we participated in a toy give away for poor children. The criteria for receiving a toy is combined household income of $250 (U.S.) per month. Our kids enjoyed selecting toys for kids their same age.

All dressed up for Christmas day, we listened to a concert in the cathedral and enjoyed friends. L to R- Iain & Aly (Loon); Kellie, Carter; Taryn, Bennet, & Mike Foster (Wyndeavor); Peter.

Christmas dinner feels a little different when it's a potluck on the beach. We had our traditional dinner the night before on our boat with Wyndeavor. L to R- John and Cindy (potential cruisers); Kellie; Mike Foster, Peter; Ron Schmidt (Batwing, no relation).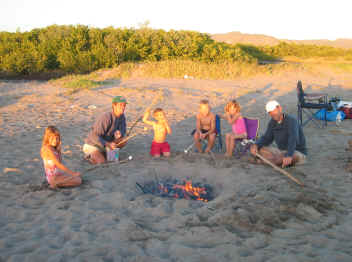 Boxing Day afternoon, we donned bathing suits and had a fire and cookies at the beach.

New Years Eve. We invited all the kids in the "fleet" to participate in a piñata and marshmallow roast party on the beach. The kids ranged in age from 3 ½ to 13. Fireworks and digging holes in the sand kept the boys entertained until well after dark.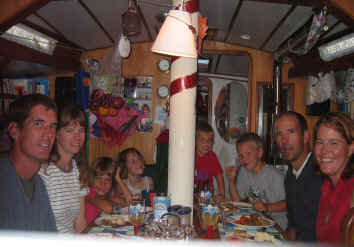 Just to keep the festivities alive, Kelly cooked her Christmas dinner on the 27th and we were happy to partake. One can never have too many mashed potatoes and gravy.