The quest for more storage space begins...
There was lots of inaccessible space around this box under the v-berth, plus there'd been a leaky holding tank in it... no amount of washing got rid of the funky smell. Below are before, during and after shots... there's room now to fit all kinds of stuff!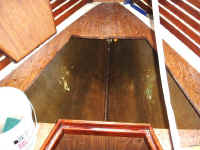 About half the primary chain rode falls/slides under the bottom of the anchor locker bulkhead (guided by a slide/shelf) into the divided space under the v-berth. This gets some weight a little further aft and lower. Time will tell if jamming is a problem, and I'm sure I'll spend lots of time fiddling with fine adjustments to make the chain lead in and out smoothly. A drain pipe leads from the bottom of the mini-bulkhead to the bilge sump to keep "anchor chain muck" from getting on the stuff we'll store behind it.
A divider to separate the primary rode (300ft of 3/8 chain) from the secondary rode (~300ft of 5/8 Samsom 2in1 Superstrong double braid and ~50ft of 3/8" chain). The cutter stay tension rod can be seen in front of the divider.
The stock "garbage bin" outboard of the galley sink was a waste of space. Out it came, and in went some shelves. The top one has a hinged section to allow access to the bottom shelf... yes, the top shelf will have to be "unloaded" about 75%, in order to get under it, but for long-term dry goods storage it'll be just fine. (new countertops are comming!)
I like shelves! The shower "room" is being converted to storage space... New large shelves fill the outboard half, and the inboard half will be used to store the dinghy, oars, etc. and as a wet hanging locker (there's a shower pan and drain in the floor - what more could you want in a hanging locker!)
The hanging locker across from the shower (forward of the starboard settee) got the shelf treatment, too. Note the "leeboards" that can be fitted to keep things from sliding and busting out the doors. Fiddles still need to be made to give the inboard edge of the shelves a "lip".
Nav station
Since the cabinetry over the fridge was torn out to add insulation/repair/support the fridge top, it seemed like a good opportunity to re-locate the electrical panels, add space for the SSB, VHF and stereo, etc. etc.
framing completed...
Project done!